La plus grande exposition d'équipement lourd de l'Est du Canada accueille des milliers de visiteurs
Pour diffusion immédiate
Publié le : 28 avril 2023
Saint-Hyacinthe, QC – Pour la toute première fois, Expo Grands Travaux a pris d'assaut l'Espace Saint-Hyacinthe le week-end dernier pour la plus grande exposition de machinerie lourde de l'Est du Canada. Les 21 et 22 avril, des milliers de visiteurs ont parcouru les allées pour découvrir les nouveautés dans l'industrie.
''Le changement d'endroit pour Saint-Hyacinthe a fait ses preuves, c'était le bon choix '', déclare Mark Cusack, directeur national du salon. '' Les salles étaient pleines de clients qui ont beaucoup acheté de marchandises pendant toute la durée du salon. Ce fut dans l'ensemble, un énorme succès.''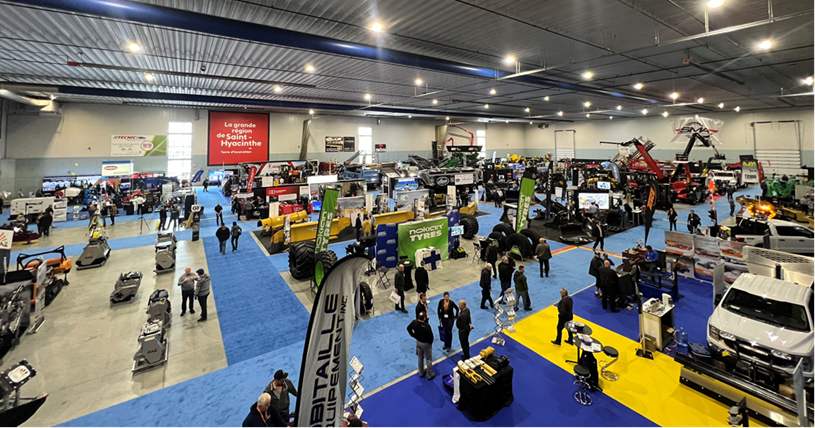 Les plus grandes entreprises du pays ont rempli quatre bâtiments d'exposition, présentant les derniers produits, services et autres nouveautés. L'édition 2023 s'est terminée avec des dizaines de ventes réalisées pendant l'événement, des gens ont établi de nouvelles relations professionnels et des milliers de visiteurs ont quitté les lieux avec de l'inspiration pour l'année à venir.
Le salon d'Expo Grands Travaux est présenté par BFL Canada, le commanditaire principal de l'événement. Le salon est également très heureux d'avoir l'appui de l'ACRGTQ (Association des constructeurs de routes et grands travaux du Québec), APMLQ (Association des propriétaires de machinerie lourde du Québec Inc), Bitume Québec, & Paysagiste Certifié (APPQ). Cet événement n'aurait pas le même succès sans le soutien de ces organismes.
Restez à l'affût des nouveautés et obtenez plus d'informations du salon sur le site web : www.ExpoGrandsTravaux.ca et suivez le salon sur Facebook.
Liste des Exposants 2023
Abtech Services Polytechniques Inc.
Accent Controles Electroniques
ACE services Mechaniques
ACRGTQ
ADF Diesel
APMLQ
Atlantic Braids Limited
Atlantis Pompe
Aubin St-Pierre Inc (Kubota)
AULT Equipment
Axiom Equipment Inc.
Bâtiments MegaDome par Harnois
BFL Canada
Bitume Quebec
Brandon Manufacturing
Brandt Tractor Ltd.
BRB Hydraulique
Britespan Building Systems
C8 Energy
Camions Beaudoin Inc.
Camions Dubois Inc
Camions Lussier-Lussicam inc.
Catalys Lubrifiants
CEC Equipements
Centre de formation professionnelle Mont-Laurier
CFP Paul Gerin-Lajoie
Cleanfix North America Inc.
Cloverdale Paint Inc.
Colvoy Equipment
Cooper Equipment Rentals
Creighton Rock Drill
Cusson Hydraulique
DataDis
Diamond Back
Distribution CSM Canada Inc.
Doepker Industries
Drainvac International
Dynablast Equipment
Dynamat
Echelon Supply & Service
Eddynet Inc.
Elation-Tech Inc.
Empire Attachments
Encan Roy
Enterprises Michel Guevin Inc.
Envirolin Canada
Epiroc Customer Center
Équipements Pro Béton
Équipements Twin inc
Equipment Journal
Esstrac /Selix Equipment
Excavation Erwin Inc.
Fincap Financial Group
Forage Ent. Michel Beaupied Inc.
Gants Laurentides
Garier
Gaudreau Assurances
GB Équipements Inc.
Geothentic.com
Giant Tire Repair
Goman Lift
Green Line Hose & Fittings
Groeneveld -Beka Lubrication Solutions
Groupe Alltech
Groupe Constructo
Groupe DCS Inc.
Groupe Filgo-Sonic
Groupe Gedic Inc
Groupe Maska Inc.
Groupe Michaudville
GRYB
GS Pro Wire Inc.
Gymdex
Hebdraulique inc
Horst Welding
J.Rene LaFond Inc.
Le Centre de Reparations Hydrauliques
Les Epandages Robert
Les Equipements ART
Les Équipements Pétroliers Claude Pedneault
Les Industries Desjardins Ltee
Les Industries Permo Inc.
Les Lames Tandem Extraflex
Liebherr Canada Ltee
Location D'Outils G.M. Inc
Louplex St-Jean /Granby
LTR
Machineries Tanguay
Marindustriel
MarketBook
Meridian OneCap
Metal Pless
Métal Sartigan
MVC Ocean Inc.
Nicoletti Pneus &Mechanique
Nokian Tyres
Nord Est Equipements
Pedlex
Phil Larochelle Equipement Inc.
PJB Industries Inc.
PMT Solution
Powerscreen of Canada
Pro Force Marketing Ltd.
Produits Gilbert Inc.
Prolab Technolub inc
Propeller Aero
QCC Pieces
Remorques Labelle Inc.
Ritchie Bros Auctioneers
RMH Industries
RMT Equipement
Robitaille Equipement
Robitaille Equipement
Rock to Road-Annex Business Media
Rototilt
Sanivac
SANY Heavy Machinery Canada Limited
Service Courtier Machinerie Inc.
Services JLM Inc.
Shoule
Sinto Inc.
Skeer System
SMA Equipements Inc.
Solution RG2S Inc.
SOS Equipement & Location
Spectralite / Signoplus
SSTA-Soudres Richard St-Amant Inc
Supply Post
Syscomak Technologies
Techno Diesel
Toiles Industrielles De Beauce
Traffix Devices
Tramac
Transflex Canada
Trecan Combustion Limited
Truck-Lite
TTI Canada / Milwaukee Tools
United Rentals
Uptown Ltee
Vermac
W. Côté & Fils Ltée
Wacker Neuson
Zone Technologie Electronique